Do you know what type of energy mix is best suited to your home? Whether you're considering moving house, or you're in the process of building a new home, understanding how energy is most efficiently used throughout the home will help you get your energy mix right.
Electricity and natural gas are the two main energy sources used in residences across Australia. Rooftop solar is on the rise and hydro power, wind and bioenergy all contribute to the to the mix of grid supplied electricity. However, renewable energy is still a small fraction of the national electricity pool. In thinking about energy for your new home, remember that each of these energy sources can contribute in a different way.
Electricity
Grid sourced electricity is a reliable source for lighting and power connection around the house. Electric heating and cooling systems and electric hot water systems are also available, but the energy efficiency of these appliances is varied. It is important to check the energy star rating of any system you are considering, think about how you plan to use it in your home, and compare its efficiency to alternatives.
Natural Gas
Natural gas is an efficient energy source for home heating systems, hot water systems and kitchen cooktops. It produces less greenhouse gas emissions than electricity and is often seen as a more environmentally friendly option.
Natural gas heating and hot water systems are widely used in Australia and highly reliable and very economical due to the low cost of natural gas. While your choice of heating system will depend on your specific property and and your personal choice, it may be helpful to be informed about what natural gas alternatives are available to you.
Natural gas cooktops are also efficient and reliable appliances, both in terms of energy use and cost. It is a favoured option among people who prefer its high degree of controllability.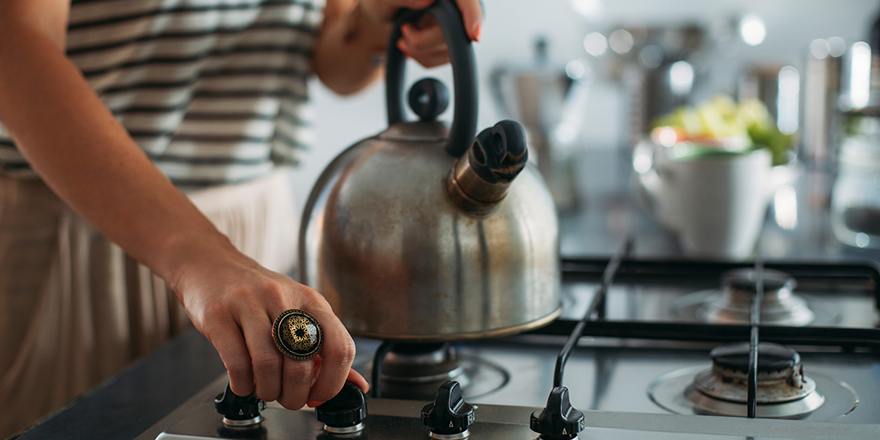 Natural gas give you greater control over flame-size and better results
Renewable Energy
In Australia, renewable power sources include hydro, solar, wind and bio energy. These sources currently make up only a small share of the electricity in the national electricity grid. However renewable energy can be used to power all home applications that use electricity.
You can directly connect your home with renewable energy through the installation of rooftop solar photovoltaic panels. Though it requires significant upfront and maintenance costs, solar energy provides a highly efficient renewable energy source that can be used across all the entire range of electric applications in the home, and can offer long-term savings and energy independence. Different systems have different benefits and disadvantages, and you will need to evaluate how these may impact energy use and cost in your home before making a decision.
What Next?
Along with considering how different energy sources are best used in your home, there are several factors that will contribute to the energy mix you decide on:
Your preferences in terms of appliance style and features,
Economic efficiency and energy star ratings of suitable appliances
Upfront appliance purchase, installation and operating
Your preferences regarding environmental impact
Keeping these things in mind as you do your research will help you get your home energy mix right.
Looking to get the right mix in your home? Then take the next step today.