Where we've come from
Previously operating as Envestra Limited, our company is today known as Australian Gas Networks - a name which accurately reflects both the nature of our business now, and our focus on the future.
We have a rich history, with our origins dating back some 150 years to the gas distribution networks of the former South Australian and Brisbane Gas Companies, and the Gas and Fuel Corporation of Victoria.
The South Australian and Brisbane Gas Companies (which started operating in the 1860s) were owned by Boral Limited. In early 1997, Boral decided to sell the distribution networks of both these companies by floating Envestra Limited as a new company. In March 1999, our company acquired part of the former Gas and Fuel Corporation's distribution network in Victoria. Today, our assets are collectively worth $3.4 billion.
Our group structure changed in September 2014. Three companies within the CK Group acquired all the listed shares in Envestra Limited and as a result, our name was changed in October 2014 to Australian Gas Networks. We are proud to operate under this name: it represents our business and supports our vision to be the leading gas distributor in Australia.

Since 2007, the operation and maintenance of our networks has been entrusted to APA Asset Management. Together with APA's efforts and commitment, we continue to deliver a safe and reliable supply of natural gas to customers connected to our networks.
Learn more about our long-term agreement with APA, and find out more about where we operate.
Group structure
Australian Gas Networks has operations in South Australia, Victoria, Queensland, New South Wales, and the Northern Territory.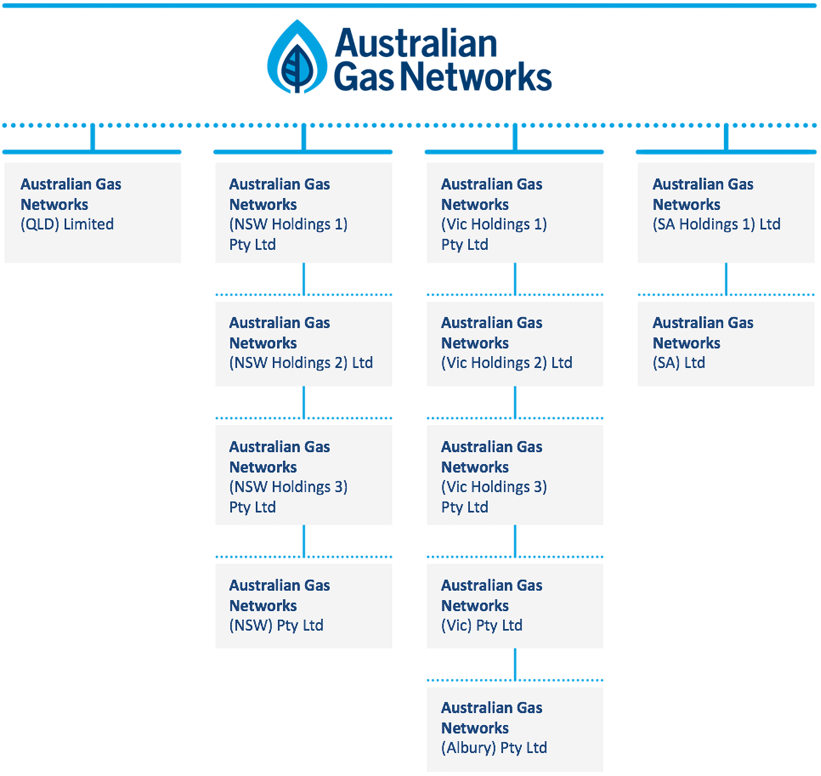 Board and committees
AGN Board has extensive experience in the gas, electricity, infrastructure, and other industries. The Company benefits from also having on the Board representatives of both Australian and wider-ranging international companies. To assist in the execution of its duties, the Board has established three committees: Audit, Risk and Compliance, and Remuneration.
Read more about AGN's current Board Members, and about the key responsibilities of its three Committees.
Management
The AGN management team has extensive experience in the operational, financial, and regulatory aspects of the gas distribution sector.
Management team
Ben Wilson

MA (Natural Sciences)

Chief Executive Officer

Former Director of Strategy and Regulation, and Chief Financial Officer at UK Power Networks. More than 15 years' experience in utilities banking across Europe, Asia, and Latin America.

Paul May

B.Acc, CA

Chief Financial Officer

Chartered Accountant with more than 15 years' experience in various corporate accounting and financial management roles with ASX-listed companies, including Santos Ltd and Henry Walker Eltin Group Ltd.

Andrew Staniford

M.Ec

Chief Operating Officer

Some 25 years' experience in development and application of regulatory arrangements in the energy industry, and extensive experience in commercial management of utilities.

Craig de Laine

B.Eccon, P Grad Dip Eccon, M Econ

General Manager Strategy & Regulation

Extensive industry experience, with 15 years' in utility regulation including previous roles at the Essential Services Commission of South Australia, and the Productivity Commission.

Ralph Mignone

B. Eng (Mech)

Manager Operations and Engineering

More than 30 years' experience in the gas industry. Previously held various engineering and operational management positions in SAGASCO, Boral Energy and Origin Energy. Some 15 years' experience in commercial and technical regulation. Former Director of Retail Energy Market Company.

John Messent

B.Ec, FINSA

Group Treasurer

More than 25 years' experience in the financial services industry. Former Treasurer at People's Choice Credit Union.

Geoff Barton

B.Acc, CPA

Company Secretary

More than 35 years' experience in the energy sector, including roles with ETSA and AGL. Joined the Company in 2006 and was previously Assistant Company Secretary, Assistant Treasurer, and Manager Business Services.
To get in touch with AGN's management team, please call 08 8227 1500 or contact us.