Reading Your Gas Meter
The natural gas invoices you receive from your energy retailer are based on how much natural gas has been consumed at your property which is measured by the gas meter.
Every two or three months, depending on the state you live in, a gas meter read is scheduled to be completed. South Australia, Queensland and New South Wales are read every three months. Victoria are read every two months.
Meter reading is carried out by our contractors from Service Stream, who will be dressed in the uniform shown and prominently display identification.
If you have any concerns regarding people that claim to be meter readers please call Service Stream directly on 03 9677 8888 or your local police. The expected date of the next scheduled meter read is often shown on your invoice from your energy retailer.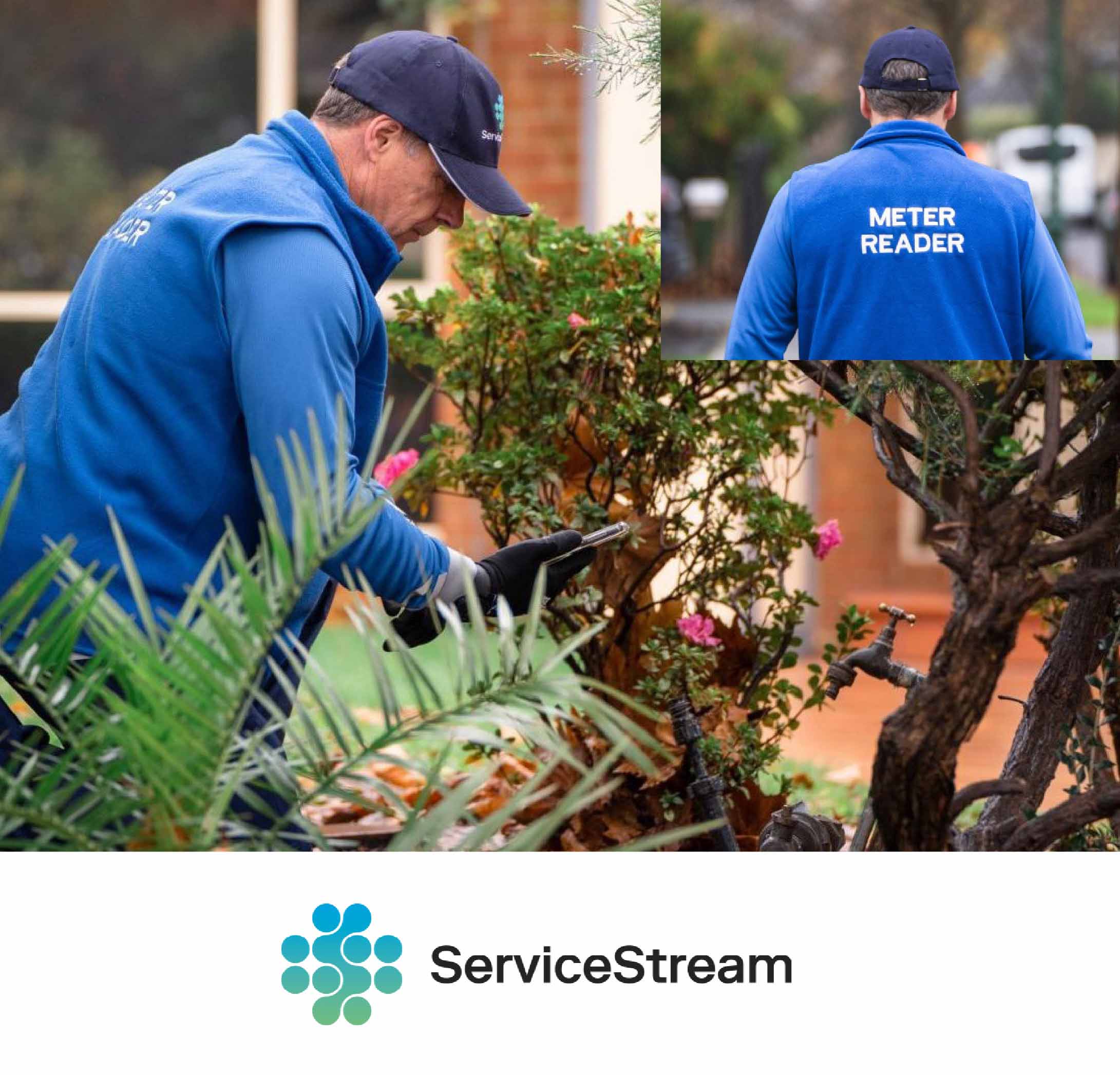 Meter Reading Card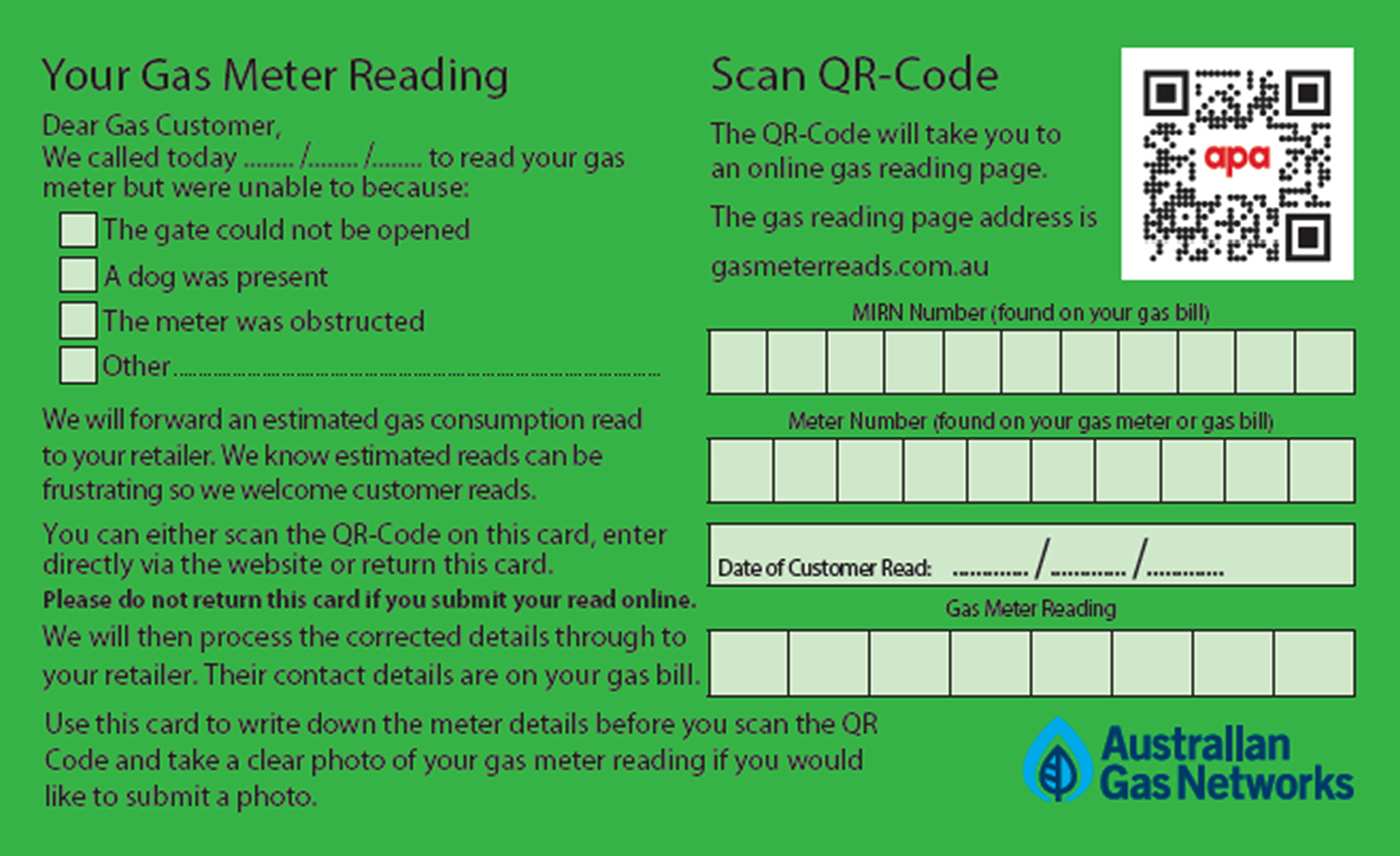 Every attempt is made to read your meter, however there are circumstances where this is not possible such as locked gates, obstructions to the meter or pets.
When we are unable to perform a meter read, we will leave a customer meter read card in your letterbox, telling you what the issue is and how you can provide a customer meter read directly to us.
Alternatively, we will provide an estimated meter read to your retailer based on historical consumption.
---
How to provide a customer meter read
If you choose to provide a customer meter read, we will update the read you provide and send the details to your energy retailer for billing.
Your gas meter will normally be found in your front yard and under a plastic cover. On some newer homes it may be attached to the house.

Gas meters can look different depending on their age, model and type and are usually branded 'Australian Gas Networks', or 'Envestra' or 'Country Energy' which are older company names. If it is another name, your property may not be within the AGN gas distribution network, so please call us on 1300 001 001 to confirm.

Metric Meters

Metric meters have numerical digits as shown in the green box. These are read from left to right including any zeros up to the decimal point or comma. In the example below the meter reading is 99999, excluding the digits in red as these are partial cubic meters.

The meter number in the example is EC000012 above the barcode. It should match the meter number on your gas bill from your energy retailer. The MIRN number is specific to your property and will be noted on you last energy invoice.




You can submit your self-meter read details by QR Code, Website or Post

By QR Code

By Website

By Post

Please note by post is the slowest method, we encourage you to use the online options, as these methods will ensure reads are processed in a timely manner.

Please have these details handy when submitting your read online

MIRN number (which can be found on your gas bill)
Meter number (which can be found on your gas bill and meter)
Address Details
Meter Read (photos can be attached when submitting online)
Date you took the read
Contact Phone number and or Email
---
Estimated Meter Reads
Where we are unable to gain access to your meter, an estimated meter read will be provided to your retailer.
An estimated read is calculated using a standard method set by the Australian Energy Market Operator (AEMO), and is based the history of gas consumption at your property.
Once an actual read is provided either by a customer read or by gaining access in the next read cycle, we will update the consumption and provide the details to your retailer.