Your next hot water system's closer than you think
Switch to natural gas hot water with AGN and claim a $500 rebate when you purchase any natural gas hot water system.
Rebates can be claimed directly via our cashback website OR from a participating rebate supplier.
We have over 500 participating rebate suppliers who you can contact to purchase and install a natural gas hot water system. Our directory below lists all participating rebate suppliers - to search for the ones nearest to you, just enter your suburb in the search box below and choose 'hot water' from the appliance type filters. Easy!
Choosing the perfect system
Not sure which hot water system's right for your home? Most fall into one of two categories: continuous flow or storage. Here are some pointers to help get you started.
Natural gas continuous flow
Instant hot water that never runs out
Heats water only when you need it
Keeps emissions nice and low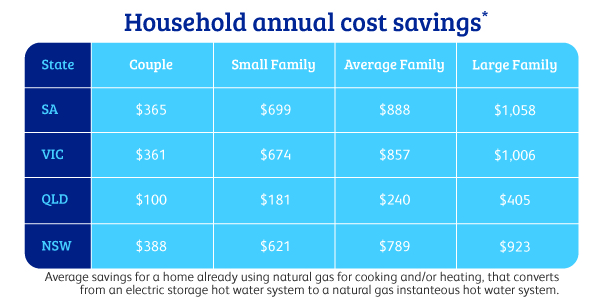 Natural gas hot water storage
Well insulated to prevent heat loss
Highly efficient with no power needed
Improved safety with outlet temperature control