Strong AGIG presence at APPEA 2019
The Australian Gas Infrastructure Group (AGIG) - at the forefront of key Australian energy infrastructure and with its current development of the nation's first hydrogen production and distribution facility - is proud to support and participate in the 2019 APPEA Conference.
The AGIG team looks forward to meeting and participating with local and international delegates and visitors throughout the APPEA event, including at the AGIG Booth, Number 208 on Main Boulevard.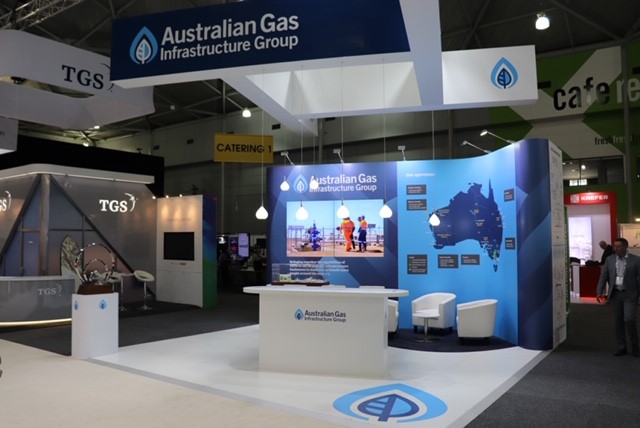 AGIG's strong track record of performance and delivering for customers includes a long history in successfully building, owning and operating natural gas pipelines, distribution networks, gas storage facilities, plus remote gas fired power generation and gas processing facilities.
We have delivered over $2 billion in projects – on time, to budget and with safety our highest priority.
The most recent addition to the Group's diverse energy and infrastructure operations across every mainland state and the Northern Territory has been the successful 2019 construction and commissioning of the Tanami natural gas pipeline for Newmont Goldcorp's NT gold mines. - one of the most significant projects and investments recently undertaken in Australia by AGIG.
The Tanami pipeline achievement followed other recently-completed projects, including the 52PJ Gas Storage Facility in Western Australia with Citic Pacific as the foundation customer and a bi-directional gas meter station and inlet compressor (Pluto Inlet) for Woodside Energy.
We are developing Hydrogen Park SA (HyP SA) - an Australian-first hydrogen production and distribution facility. Utilising a 1.25MW Siemens electrolyser to convert water to hydrogen gas using renewable electricity resources, HyP SA will blend the green hydrogen into the natural gas network in South Australia.
We look forward to AGIG's continuing involvement in delivering such vital projects to the benefits of all Australians.
Web Site: www.agig.com.au Linkedin : https://www.linkedin.com/company/agig/
For further information at the Conference to contact Colin Sadlier, Head of Business Development - Mobile 0419 260 891
About AGIG
Australian Gas Infrastructure Group (AGIG) has approximately 2 million customers across every mainland state and the Northern territory, 34,000km of distribution networks, over 4,000km of gas transmission pipelines, 52 petajoules of gas storage capacity and remote power generation. AGIG's vision is to be the leading gas infrastructure business in Australia - by delivering for customers, being a good employer, and being sustainably cost efficient.
In 2017, Australian Gas Networks (AGN), Dampier to Bunbury Pipeline (DBP) and Multinet Gas Networks (MGN) came together to form AGIG. The combined distribution, transmission and storage assets make AGIG one of the largest gas infrastructure businesses in Australia.
For further information contact
Andrew Staniford, Chief Customer Officer, Australian Gas Infrastructure Group
T (08) 8418 1125
John Field, Field Public Relations
T (08) 8234 9555
M (0418) 819 527