Hydrogen Park, South Australia - Making renewable gas a reality
Hydrogen Park South Australia (HyP SA) is our first renewable gas project, located within the Tonsley Innovation District. It will produce renewable hydrogen using renewable electricity and water.
Renewable hydrogen can then be used in the same way as natural gas, heating homes and businesses, generating electricity and as a transport fuel. Yet it doesn't produce any carbon emissions – only water and energy.
HyP SA will be Australia's largest renewable gas project and the first to blend hydrogen with natural gas for supply to customers using the existing gas network. The cleaner burning gas will be supplied to approximately 710 nearby properties in Mitchell Park, South Australia with a blend of up to 5% renewable hydrogen and natural gas, delivered through the existing gas network. Residents involved in the project have been informed and won't notice any change to the gas, or the price they pay to their energy retailer. It's also as safe as the current natural gas supply.
With renewable gas, we can store vast amounts of energy for later use (such as when the sun is not shining, or the wind is not blowing) and still have the superior reliability and heating performance that natural gas provides. HyP SA will also supply local industrial customers by transporting hydrogen via tube trailers (long storage tubes on the back of semi-trailers).
The project is supported by the South Australian Government, and the State's vision to leverage its wind, sun, land, infrastructure and skills to be a world-class renewable hydrogen supplier.
HyP SA's Development Application was approved in September 2019, with the ground being broken by the Premier of South Australia the Hon. Steven Marshall MP on site in December 2019. First production at site was achieved in late 2020, with first supply of renewable hydrogen blended gas via the networks and first supply of renewable hydrogen to industry via tube trailers expected by mid 2021.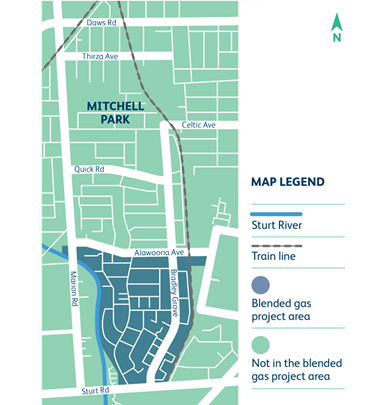 How will renewable hydrogen be produced?
Although hydrogen is the most abundant element in the universe, it's not freely available - it must be separated from other elements. The hydrogen we produce will be renewable because it is created from water and renewable electricity in a process called electrolysis.
Renewable hydrogen will be blended with natural gas for distribution into the existing Mitchell Park gas network or put into storage. The oxygen will be released into the atmosphere.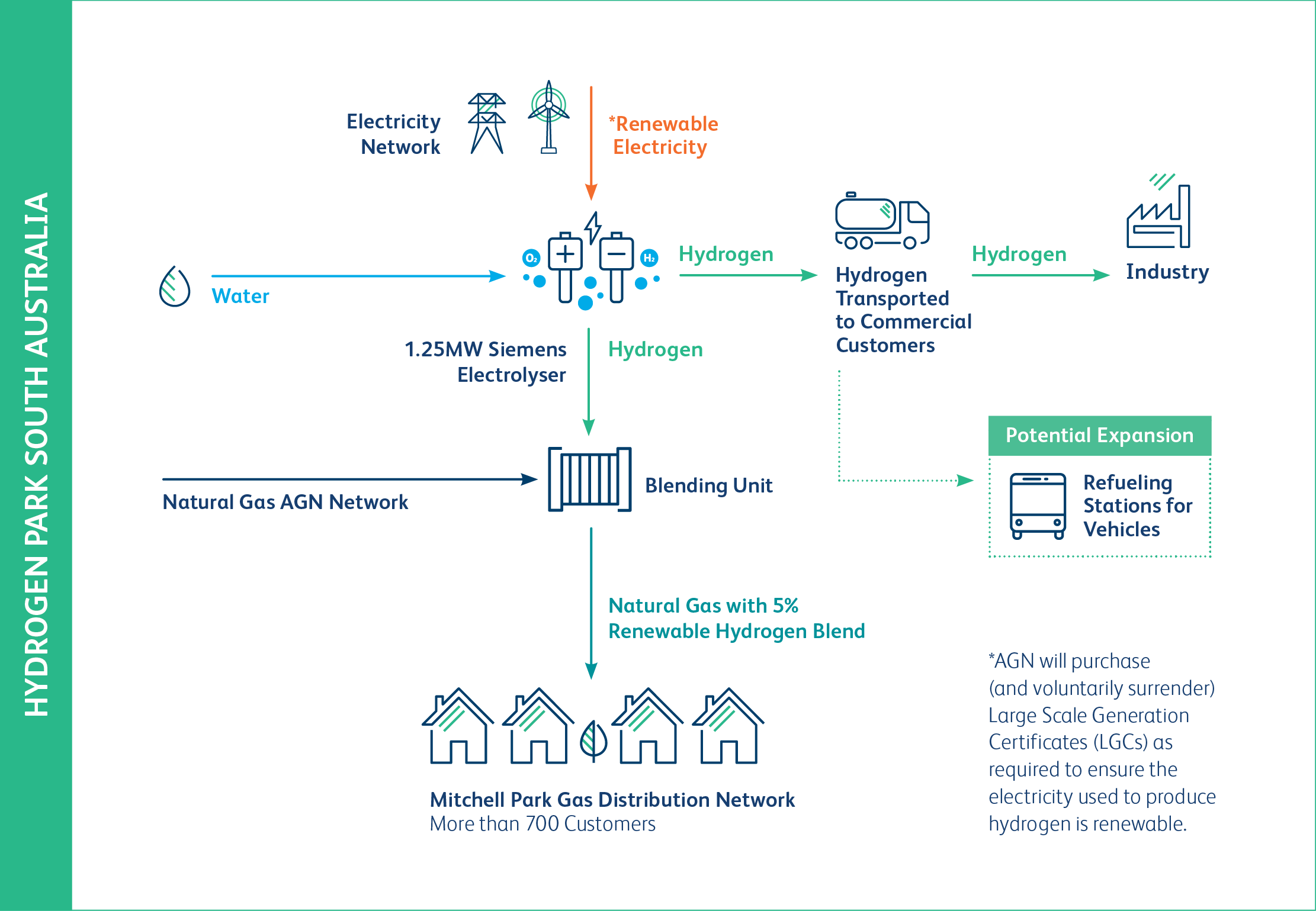 AGN is subject to regulation by government bodies designed to ensure our commitment to safety, reliability and service continue. All necessary approvals for this project will be achieved before renewable hydrogen production begins.
Our Resources
Latest Project News
Read about the latest progress on our HyPSA project at https://blendedgas.agn.com.au/project-progress.
Find out more at
https://blendedgas.agn.com.au/