GAS SUPPLY DISRUPTION AT MOUNT GAMBIER
6:00pm, Monday 14 September 2020.
Relighting Map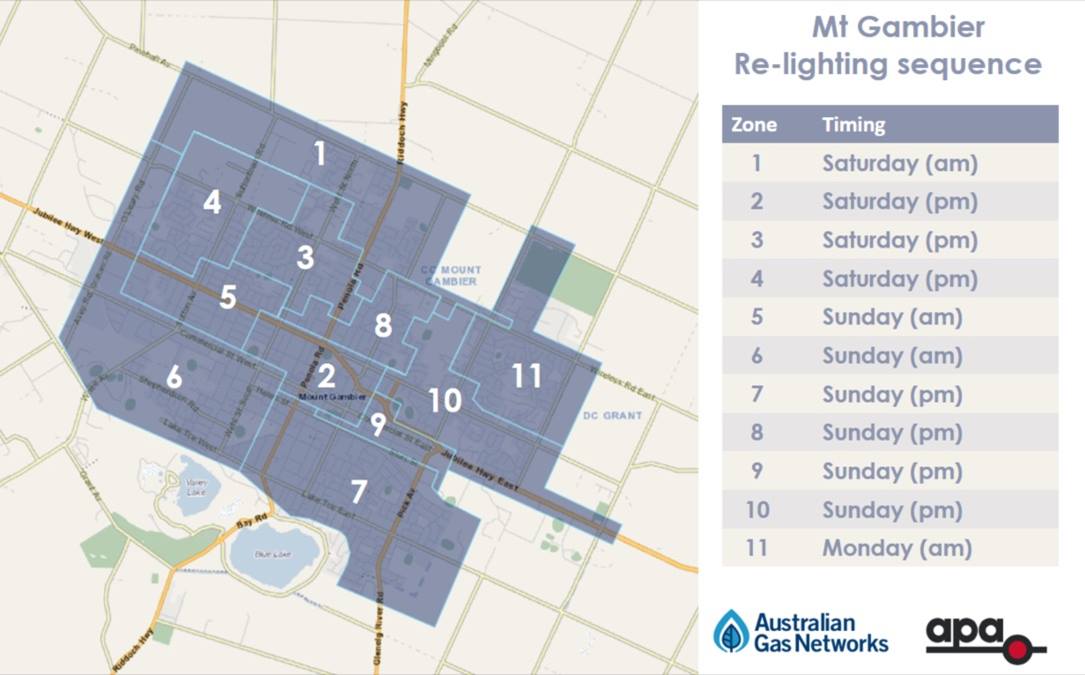 Mount Gambier gas supply to return progressively from Saturday

APA confirms that all 9,286 affected properties have now been visited and supply has either been restored or a re-connection card has been left at the property.
Any customer who is still without gas and needs assistance to re-connect can call APA Group on 1800 898 220 to organise for a gas fitter to attend.
Customers happy to re-establish supply themselves can now do so using the instructions above
Additional crews will remain in Mount Gambier for the remainder of the week to assist customers if required.
"Restoring gas supply to more than 9000 consumers is a huge operation," said Edwin De Prinse, General Manager Networks, APA Group.

"We had to visit every customer twice so that's more than 18,000 door knocks. Without the assistance of the Metropolitan Fire Service (MFS), State Emergency Service (SES) and Country Fire Service (CFS) it would have taken much longer. We thank them for their support.
"We also acknowledge West Gambier Football Club for providing shower facilities and the community of Mount Gambier for its patience and understanding throughout. Thank you."
The supply interruption occurred on 9 September upstream of the city network.
APA Group manages and operates the South Australian Natural Gas network on behalf of Australian Gas Networks (AGN) Limited.

Updates remain available via the APA Group Natural Gas Emergency Hotline on 1800 898 220, the National Response Centre on 1800 427 532 and on the AGN website at www.australiangasnetworks.com.au or the AGN Facebook page at Facebook.com/australiangasnetworks.