Fully qualified plumber and gasfitter, Joey Eccles has spent the better part of the past twenty-three years fitting gas appliances around Melbourne through his business Gastek.
To help you make the right decision, he gave us his insider tips for finding the right person for the job.
1. They've got to be licenced
Joey says first and foremost your fitter should be licensed. Unlicensed gas work is not only illegal in all states and territories, but may well be unsafe.
'Using a licensed plumber or gasfitter gives you, a guarantee that your purchase is going to be installed correctly and safely.
'Gas should always be treated with the utmost respect. If you're not using someone licensed, you risk something going wrong down the track which could potentially leave you with property damage or put your loved ones at risk of injury.'
How will know if your practitioner is correctly licensed?
'Gasfitting license regulations differ from state to state, but the simplest way is just to ask to see their gasfitting card to prove they've undergone the right training,' he says.
If you're still unsure, you can check a professional's qualifications on Licensedtrades.com.au. Alternatively, Master Plumbers Australia is also a great source of information.
2. Gasfitter or plumber? There's a difference.
This can get a tad confusing. While some plumbers offer gasfitting services, an individual solely qualified as a gasfitter can't offer any plumbing services ­– only appliance installation and maintencance. Joey says you need to be careful you're choosing the right person with the right qualifications for your job.
'In Australia, a qualified licenced plumber can provide some gasfitting services, but it doesn't work the other way around,' he explains. 'A professional solely qualified as a gasfitter without a plumbing qualification can't do any plumbing work, but what they can do is work on gas systems like cooktops and gas BBQs'
Here's a breakdown of the roles:
Gasfitter
A licensed gas-fitter can repair, service and replace natural gas appliances like cooktops, gas BBQs and upright cookers and fixtures in residential, commercial and industrial applications. This can also include converting BBQs to natural gas.
Duties include:
Appliance maintenance
Installing gas pipes
Installing gas detection and pressure regulating systems
Installing gas related appliances and associated equipment
Installing gas appliance flues
Installing LPG systems in boats or caravans
Reading and interpreting plans
Testing pipe work for gas appliances
Providing customers with advice on how to operate and maintain gas appliances
Maintaining ancillary equipment and pipes used for safe operation of appliances using flue gasses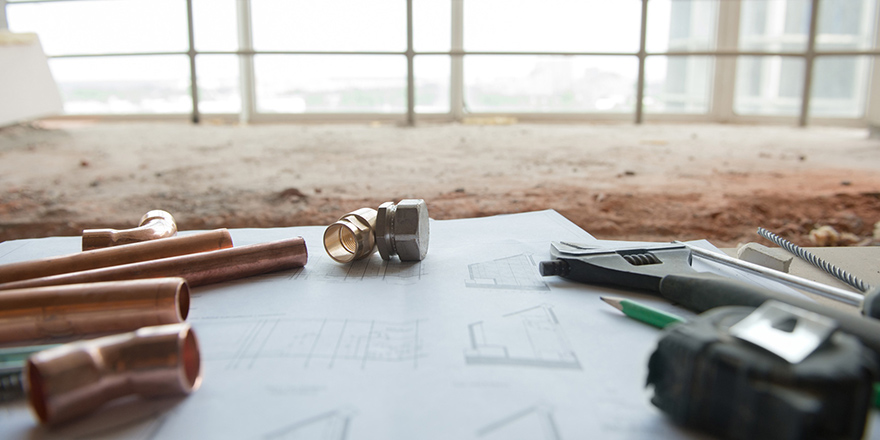 Part of a gas fitter's role is to read and interpret plans.
Plumber
Aside from their drainage, sewage and piping responsibilities, a qualified licenced plumber can provide some gasfitting services.
Duties include:
Pipe disconnection
Pipe installation
Pipe repair
Pipe fitting
Many tradies will begin with a plumbing apprenticeship then undertake extra study to allow them to specialise in gasfitting. Another option is to undergo a combined apprenticeship that qualifies you for both. And while you'll often see businesses out there saying they're plumbing and gasfitters, you should be aware that gasfitting is a separate occupation with different training and qualification requirements than that of pure plumbing.
Hopefully that clears things up.
3. Do your homework
This may seem like an obvious one, but Joey says plugging your tradie-to-be's name into a search engine like Google and doing some research is a good idea.
'You can read some online reviews, most reputable plumbers and gasfitters have websites now so you can read up on their qualifications there.
'If you're still feeling unsure about who to choose though, give your local appliance retailer a call or get in touch with Master Plumbers Australia. They'll have a network of qualified professionals they work with regularly and should be able to recommend someone who services your area.'
4. Cheaper is not necessarily better
Joey warns against going with a fitter who's offering you a markedly lower price than their peers.
'If someone is quoting you a price that seems too good to be true, it's because it probably is. So ask them why they're cheaper.
'If you have any doubt about what someone is quoting you, getting three or four doesn't hurt. Doing your homework will give you the confidence of knowing you chose the best person for the job.'
Choosing a gasfitter isn't rocket science, but there are a few things to consider to ensure you're getting the right person for the job. Thanks to Joey though, you're now all set to pick someone that will get the job done safely and correctly.
If you're on the hunt for a gasfitter check out our helpful online directory of gasfitters to help you make the installation decision that's right for you.