A natural gas heater can provide you with a happy medium between a warm home this winter and an energy bill that won't give you a heart attack. Efficient, economical, better for the environment and built to last, natural gas heaters are also a great way to keep your place cosy as temperatures drop.
Natural gas heating's performance, speed and comfort are far superior when compared to electric split systems and oil heaters. Which makes gas the natural choice for warming your home this winter. To help you work out what's best for your place, we spoke to heating expert Brent Vrdoljak of leading gas heating retailer Rinnai. With his help, we put together this handy guide with everything you need to know about buying a natural gas heater.
Heating types
Flued heating is the safest choice when it comes to heating and there are several options on the market.
Ducted gas heating
Consists of a gas furnace (which can be installed outside or underfloor) and ducting vents to the rooms you want to heat. While more expensive to install initially, a ducted system may work out cheaper to run than two gas space heaters.
Gas log fires
You can't do much better than the ambience delivered by an open fire, but wood burning fires can be messy and inefficient. A gas log fire not only looks a treat, they're extremely energy efficient and give off impressive heat levels.
Space heaters
Power flued space heating is one of the most economical options on the market. And thanks to new technology, there's a growing range of compact space heaters and wall furnaces that can be a great solution to space and budget restrictions.
Hydronic heating
Hydronic heating is becoming more popular in Australia as people start to understand its benefits. These types of systems circulate heated water through pipe work hidden within the floor or radiators attached to the wall. .
It's highly efficient, provides even heat monitored by a thermostat. And because there are no fans, it's not only quiet, but it noticeably reduces dust movement which is music to the ears of asthma and allergy sufferers.
Outdoor heating
Whether you're throwing a party or just relaxing in your backyard, outdoor gas heaters use radiant heat to create warmth an atmosphere to outdoor spaces. They come in a number of shapes, sizes and styles to suit your space's requirements. These types of heaters should only ever be used in outdoor areas.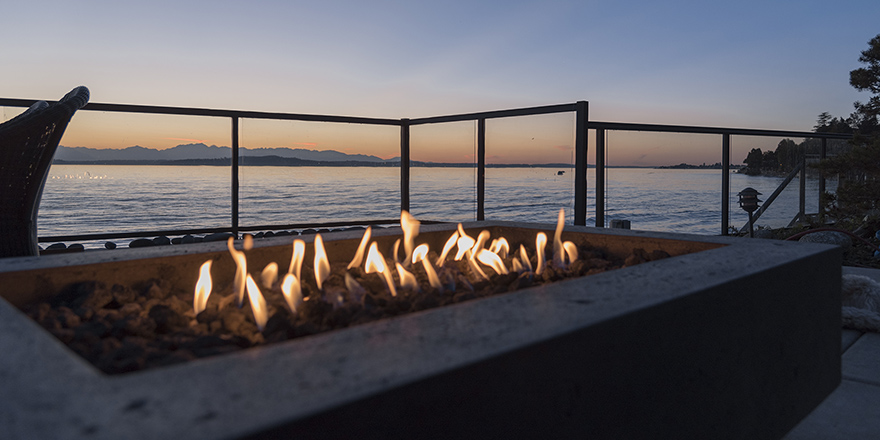 Outdoor gas heaters use radiant heat to give warmth to outdoor spaces.
Brett explains that there are pros and cons for each, and your choice will depend on factors such as budget, whether you own the property and the space you're warming.
'If you're in the market for a ducted heating system, my biggest tip is to look for one with a simple, easy to use control wall. People get so confused by the little icons, and probably lose the manual after a few years, that they're not even using many of the features.
'A gas fireplace is also a great option if you've got an existing space you'd like to revitalise.'
Consider the space
Are you trying to warm an open plan living room or your entire home? Larger areas require more heating power to warm efficiently, so this will affect the type of heater that is recommended to you. Brent says the place to start is with the space you're looking to heat.
'People are embracing an open-plan living style more than ever, but heating large spaces like these can be a real challenge. Gas heating is a great solution in these types of applications because it allows you to heat the space quickly and cost-effectively.'
The room size and your local climate will determine what size heater you need for the job. For fast heating, choose the biggest capacity suitable for a room (measured in MJ per hour). A lower capacity heater will still heat the room but will take longer to do it.
Heat loss factors
Brett says there are several structural factors that can contribute to your home heating's energy and cost efficiency. These will influence the size of the heater your installer recommends for you.
The following factors will play a part:
Roof and wall insulation
Floor and window coverings
Whether your house is on a concrete slab or stumps
Before you kick off your quest for the best gas heater, we recommend saving yourself time and getting in touch with an appliance retailer. They'll be able to answer any questions you might have, measure up your space, and make a product recommendation for you.
For a limited time, eligible existing home customers can claim a $500 rebate for the installation of natural gas ducted central, hydronic, or gas space heating. You can find all the details of additional rebates as well as the terms and conditions here
If you'd like to find out more about what's involved in getting natural gas heating installed at your place, check out our list of appliance retailers who can assist you in making your purchase decision.