It's that time of year when things start cooling down, we spend more time inside and dream about what we can do to improve our home. It's no secret that natural gas is a cost effective and easy option for powering your home: whether it's for heating, hot water or cooking. So when it comes to making the shift, what should you be looking for?
1. Cooking up a storm
We spend more time in the kitchen than anywhere else, so an upgrade to your oven and stove is often the first place many people explore. There's a reason that using natural gas to cook is the choice of professional chefs: it gives you complete control with an instant and adjustable temperature, so you can cook up a storm. There are many great options, but cooktops range from $300 to $5500 depending on the size of your space, what it's made of (stainless or glass) and the number and type of burners you require.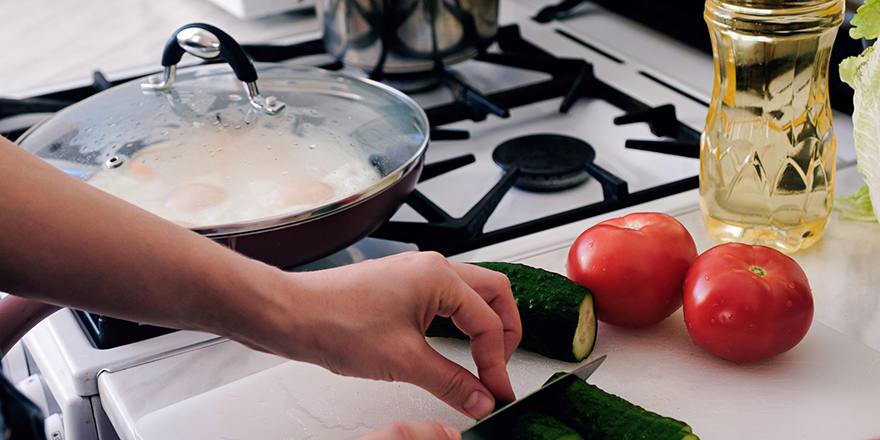 Natural gas is the choice of professional chefs
2. Getting toasty
Nothing beats watching the glow of a fire on a crisp night. A natural gas fireplace instantly changes the dynamic of your living area, adding a new level of ambience and comfort that will add value to your home. These heaters [which range from $2200 to $6600] provide fast, powerful and efficient heat that doesn't dry out the air in your home like air conditioning, or have the hassle of buying and storing wood and cleaning up the ash. You can have instant heat with the push of a button and control the power and strength of your fire with ease.
3. Keeping it clean
In the bathroom, likewise, natural gas can be a great idea. If you enjoy a long, hot shower or have a large family, upgrading to a natural gas hot water service might be the right move for you. This could significantly cut your running costs when you consider that water heating accounts for around one third of your home energy use. Best of all, in most models the hot water is instant, meaning you'll never go without a warm shower.
4. The great outdoors
Once summer hits, there's nothing better than taking the kitchen outside and having friends around for a BBQ.
Just like a natural gas stove and oven, a natural gas BBQ gives you complete control of your cooking experience, and you can convert your BBQ on to natural gas with a conversion kit from your hardware store for $98. And, if you connect your barbecue to natural gas from your home, you won't need to lug around bottles or run the risk of running out of gas mid-feast.
To make the most of your revamped BBQ setting, you'll want to warm your surroundings for when it cools down later in the night. A natural gas outdoor heater Bunnings for between $500 and $1000) allows you to entertain all year round, providing fast and powerful warmth in an economical way. As with the BBQ, there's no last minute dash to the shop to refill the gas bottle if you connect it to natural gas.
There's no doubt that natural gas appliances provide an efficient and cost effective option for your next renovation, but it's important the installation is done by a qualified professional.
Find a local plumber, gas fitter or retailer to work out what appliances will best suit your needs by heading to Australian Gas Networks.