Growing up on Victoria's Surf Coast, my family has always loved the barbecue. Whether it was by the beach or on the farm, we were using the barbecue at every opportunity.
It's still a prevalent Gant family tradition. Everyone surrounds the barbecue on the deck, and we cook everything on it - from the classic toad-in-the-hole in the morning, to lamb chops for lunch and a whole salmon for dinner. The smell of the barbecue connects me to holidays, gatherings and family.
I love the char from the barbecue. Who doesn't? As I grew older and learnt more about cooking, I learnt how to barbecue a scotch fillet to get the charcoal effect while achieving melt-in-your-mouth meat at the same time, without the flesh turning into rubber.
I now own catering and events business Pot&Pan, which allows me to experience that sense of holidays, gatherings and families every day of the week. At Pot&Pan we use the natural gas barbecue for many of our food offerings, with these recipes some of my favourites.
BBQ Rockling with Burnt Butter Sage Sauce and Smashed Bacon Paprika Potatoes
I created this recipe when cooking for friends and family who are basically carnivorous. They were expecting red meat, but I had other plans – I wanted them to get to know the Surf Coast's local fish better. This dish let them see and taste some of the things my dad and I often caught while fishing at Point Roadknight, a beautiful beach very close to where I grew up in Anglesea.
Serves 4
Ingredients
4 x 150g rockling fillets
75g butter
16 sage leaves
Sea salt and pepper, to taste
Lemon wedges, to serve
For the potatoes
6 scrubbed potatoes, chopped into small chunks
3 rashers bacon, finely sliced
1 shallot, chopped
1 tsp smoked paprika
1 tbsp olive oil
sea salt and pepper, to taste
Method
Boil potatoes in water on a gas stove until cooked through - hard enough for smashing but not soft enough for mash. Drain. Add the salt, pepper and paprika to the potato, toss, and set aside.
Cook the bacon and shallots in olive oil on the barbecue until the bacon is crispy and shallots are translucent. Add potatoes and cook while smashing them with the back of your spatula. Cook until the potatoes are nice and crispy.
Rub the rockling fillets with sea salt and pepper. Get the hotplate on the barbecue hot, then add the fillets and cook on high for 4-6 minutes on each side.
As the fillets are cooking, add the butter. As the butter starts to turn golden brown, add the sage leaves and keep rotating the fish in the butter until the outside is crisped up and the inside is cooked through, but still tender.
Place the fish on top of the potatoes and add a squeeze of lemon to serve.
Butterflied Rosemary Garlic Lamb Shoulder with Mint Sauce
I've loved cooking and eating lamb for as long as I can remember, lamb cutlets still being my favorite breakfast option.
I think lamb is key to any successful barbecue dinner - but this recipe is a step above your standard lamb chop. I made this recently while in Red Hill, with beautiful meat from a local supplier.
Serves 4-6
Ingredients
1 kg butterflied shoulder of lamb
For the marinade
2 tbsp fresh rosemary off the stem
2 garlic cloves, sliced
¼ cup mint, roughly chopped
½ cup olive oil
Sea salt and pepper, to taste
For the mint sauce
2 bunches mint, leaves ripped up, stems discarded
1/4 cup white wine vinegar
1 tbsp honey OR 2 tbsp caster sugar
Water
Method
Place lamb in an airtight container. Combine all marinade ingredients and mix well. Pour over lamb and place in the fridge to marinate for six hours.
In a small saucepan on low heat, add all mint sauce ingredients except water together and mix well. Cook until sauce reduces and thickens. Add water until sauce is preferred consistency and season.
Get barbecue nice and hot. Place the lamb on the barbecue and close the lid. Flip lamb shoulder after 15 minutes, cooking other side for a further 10 minutes.
Flip shoulder again for another 5 minutes at the end of the cooking process. Once cooked through to medium rare, remove lamb shoulder from barbecue and let it rest for 15 minutes.
Slice lamb shoulder and pour mint sauce over the top. Serve with a fresh salad, some green beans and perhaps a cauliflower puree.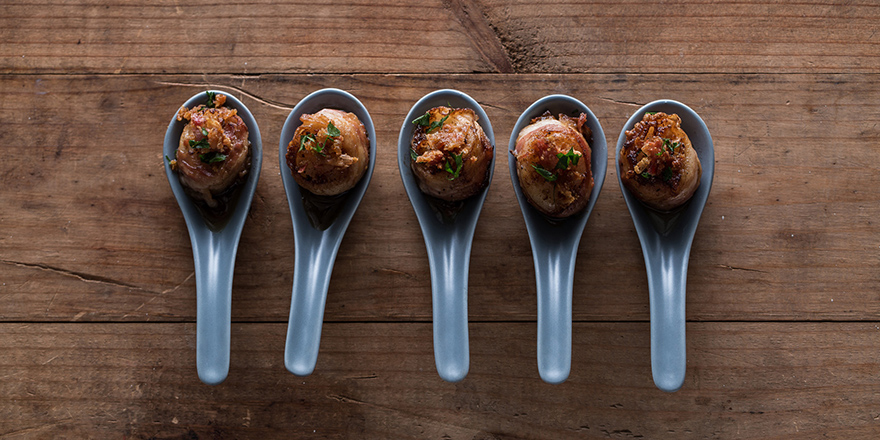 Cooking on the BBQ with natural gas is affordable and creates melt-in-you-mouth meals.
Scallops with currant caper chilli jam and burnt leek puree
They say necessity is the mother of all invention, and it definitely was in this case. I came up with this recipe during a 15 minute challenge on Masterchef - the quick cooking time of the scallops make this dish perfect for the short timeframe. It's super easy because you're essentially chucking all the ingredients into a mortar and pestle and a frying pan and then you're done.
I love this recipe because the sweet, juicy scallops are balanced really nicely by the sour, salty and slightly sweet ingredients of the jam.
Serves 2
Ingredients
10 scallops
10 thin slices pancetta
30g butter
1 tbsp olive oil
For the jam
3 shallots, finely sliced
1 tbsp champagne vinegar
1 tbsp caster sugar
3 tbsp currants
2 tbsp capers
1 anchovy, roughly chopped
¼ red chilli, finely chopped
Sea salt, to taste
For the burnt leek puree
2 leeks, diced
80g unsalted butter
3 tbsp cream
Method
In a pan, caramelise the shallots with the vinegar and sugar. Mash other jam ingredients together in a mortar and pestle, add shallots and mix well. Season and set aside.
In a frypan, slowly sauté the leeks in the butter on a low heat to get them to a nice golden colour. Add half the leek mixture to a blender with cream and blitz, and then add back to the pan with the rest of the leek mixture and gently mix to combine. Add salt and pepper and set aside.
Wrap the scallops in the pancetta, securing with a toothpick to hold the pancetta in place while cooking.
Pan fry scallops in olive oil and butter for 1-2 minutes on one side. Once the whole scallop has turned white, flip and sear on the other side. Keep spooning the butter in the pan over the scallops while cooking. Season.
Reheat the leek puree in the pan until warmed through. Add five small mounds of mash to each plate, and place a scallop on top of each mound. Remove the toothpicks from the scallop parcels and spoon some jam over the top of each scallop. Drizzle any remaining butter from the pan over the top and serve.
Thinking of introducing gas into your home? Find out what you need to know to create a new natural gas connection.