There has never been so much focus on the home. And with the abundance of renovation shows on TV, it's not hard to see why. We're exposed to what's possible, DIY tricks, and reno inspiration fuelling our desire to create beautiful spaces boasting personality.
With a meticulous eye for detail, a style that exudes sophistication, and a background in both building and design, we chat with Frances Cosway, from White Pebble Interiors to discuss this year's biggest renovation trends.
AGN: What's your favourite room in the home, and why?
FC: I like bold kitchens; it's the hub of the home. So I like it to work, but I like it to be a statement… my signature is a loud splashback, with very plain cupboards, as that really creates a statement.
AGN: Now let's go through the home and discuss renovation trends per room. What are we seeing in the kitchen?
FC: Walk-in pantries are really popular. They're almost becoming a staple. [Walk-in pantries] are your hideaway place. But they're also for your extra appliances. An extra fridge, some people are putting in an extra oven or a dishwasher, so it's almost a double up kitchen.
When it comes to utilities, I'll talk to them [clients] on whether they want to go natural gas or electric induction. Electric is definitely not a preference.
I often find that most of my clients go with natural gas because it's instant; they don't have to buy different cookware, like you do with induction. And people like gas – they know it and it's a trusted source.
Marble is really big at the moment from a materials perspective, which is why composite stones, such a caesarstone or ester stone are coming out with imitation carrara and calacatta marble… they're also more durable than a natural marble, and are also more cost effective.
There's also the cement look… very organic in its structure. Your caesarstones, your hi macs, the corians are coming up with a cement-type look that's very popular as well.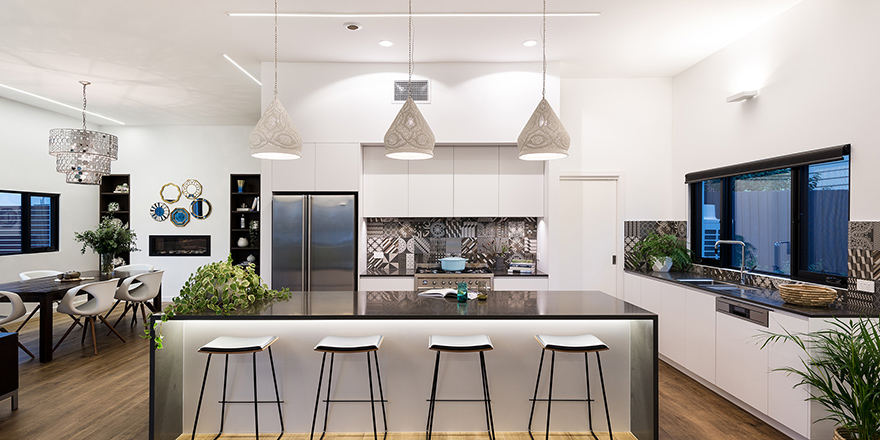 Natural gas provides instant heat in the kitchen.
AGN: What's happening in the lounge area?
FC: People are still big on floorboards, having big open spaces without carpet. Rugs are big.
Inbuilt fireplaces are definitely very popular. Most people are going down the natural gas route, rather than the combustion or wood fire – particularly in the cities. People are going for natural gas with the log look, or a more modern look with pebbles.
In some homes you'll see [log fires] in two rooms; the main lounge and second living, or even outside.
Large family open plan living is still big. There's a movement and people are saying they're going to start creating rooms again. One for an energy efficient perspective, because the bigger spaces are a lot harder to cool and to heat, and they do reduce your energy star rating.
AGN: Any fresh ideas for the laundry?
FC: Drying cupboards are becoming really poplar now [and] you can do it in two ways: If you have ducted heating, you put a duct in a cupboard in the laundry and that will dry your clothes. Or you actually get a [natural gas powered] drying cupboard – and they're becoming really popular in Australia.
And the laundry is now also doubling up a mudroom. From the garage, you step into the laundry, you drop your shopping off, you get rid of all your muddy boots, and then you go into the walk-in pantry and that transitions into the kitchen.
[Basically], laundries are getting bigger because they have a bigger function now.
Time for some renovation? Read our guide on how to set up a new gas connection in your home.