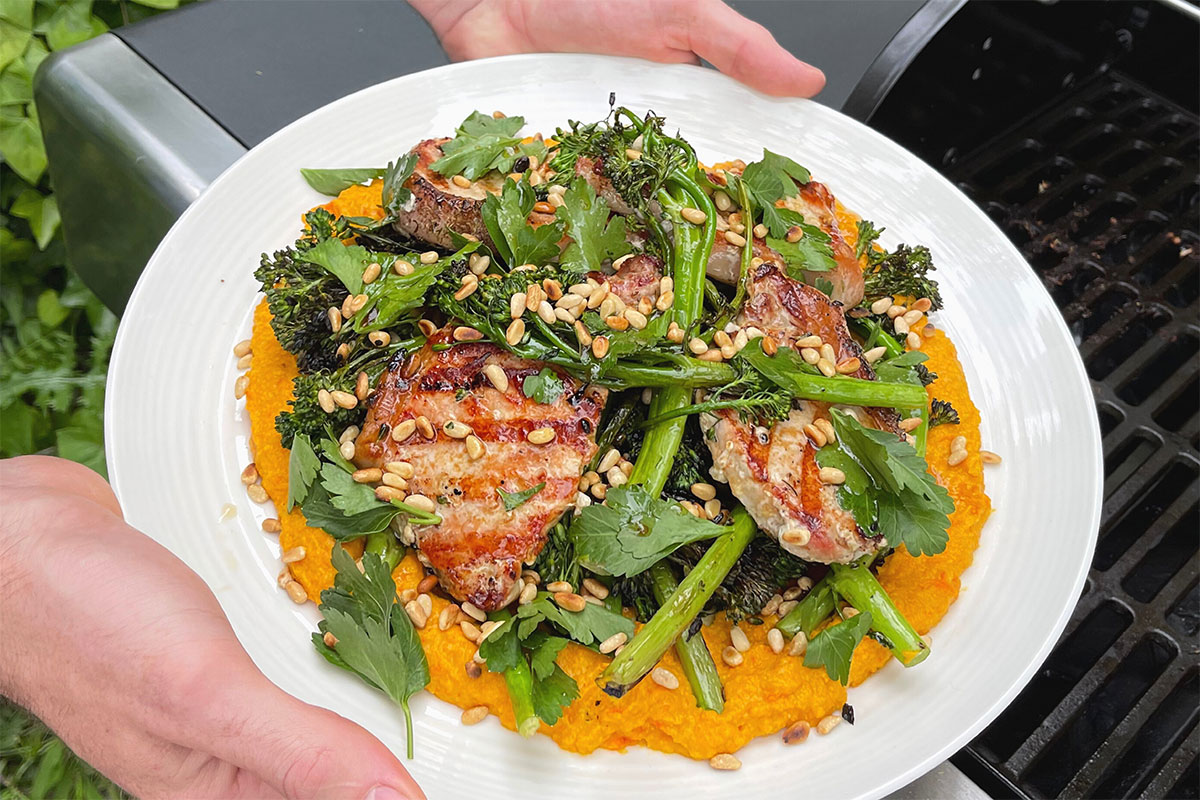 Summertime calls for fresh BBQ inspiration – and who better to help us out with that than Callum Hann (previous MasterChef contestant and owner of Sprout in Adelaide). Callum has whipped up a fancy sounding but super simple, delicious summer dish: Za'atar pork with broccolini, carrot hummus & pomegranate dressing.
We invited Callum to road test our 100% renewable green hydrogen powered BBQ as part of the process. Verdict: it's exactly the same as cooking with a regular gas BBQ – but carbon-neutral!
Watch the video of Callum preparing this recipe – and get a sneak peak of what cooking in the not-too-distant-future will be like.
Za'atar pork with broccolini, carrot hummus & pomegranate dressing
Ingredients: (Serves 4)
1 tablespoon sumac
1 tablespoon sesame seeds
2 teaspoons dried thyme
pinch of salt
1 tablespoon olive oil (plus 2 tablespoons extra)
4x 120g porkerhouse steaks
2 bunches of broccolini, trimmed
1 tablespoon pomegranate molasses
juice of ½ a lemon
½ bunch of parsley, leaves picked
2 tablespoons roasted almonds, roughly chopped
For the carrot hummus:
2 carrots, peeled and quartered
1 tablespoon olive oil, plus 1 tablespoon extra
400g tin of chickpeas, drained and rinsed
2 tablespoons tahini 1 garlic clove juice of ½ a lemon pinch of salt
Method:
1. Combine sumac, sesame seeds, dried thyme, salt and one tablespoon oil in a medium bowl. Cover pork in the marinade and set aside for at least half an hour or overnight in the fridge.
2. Preheat oven to 200°C (fan forced). Place carrots on a lined baking tray and drizzle with honey and one tablespoon oil. Roast for 25-30 minutes or until tender. Allow to cool slightly, then transfer to a small food processor with remaining hummus ingredients. Blitz until smooth.
3. Heat a BBQ grill plate over medium-high heat. Cook pork for 3-4 minutes either side or until cooked to your liking. Set aside to rest before slicing. Meanwhile, cook broccolini on grill for 2-3 minutes or until tender and lightly charred.
4. Stir pomegranate molasses, lemon juice and remaining two tablespoons oil together in a small bowl.
5. Spread hummus between four serving plates. Arrange broccolini and sliced pork top. Drizzle over pomegranate dressing and garnish with parsley leaves and roasted almonds.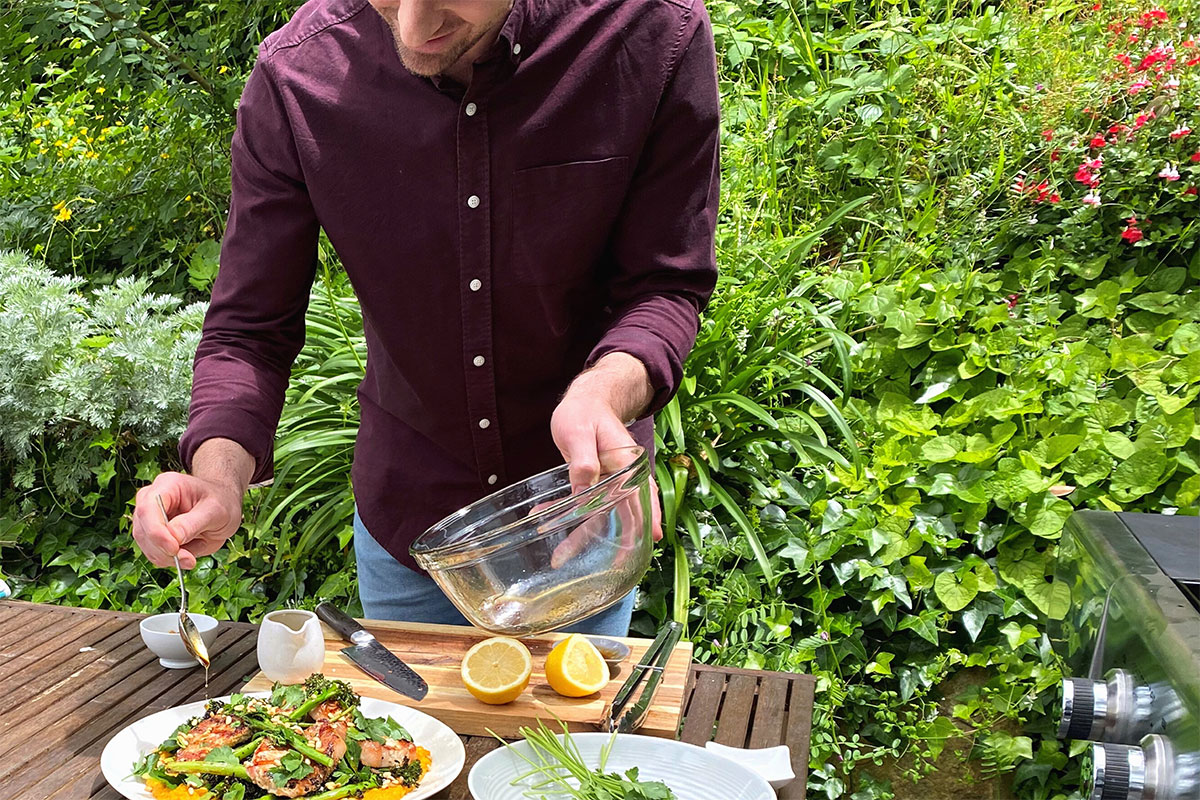 At AGN we are committed to reducing carbon emissions in the gas network and to achieve this we are transitioning to 100% renewable gas; this means you can keep enjoying gas for cooking, heating and hot water as you do today. Want to learn more about renewable gas? Visit Renewable gas. Change for Good.