We think fireplaces are great, especially in winter and especially if they're efficient, high quality gas fireplaces that can keep you warm, provide glowing light, and give your room a cosy, inviting aesthetic.
But what do you do once you're settled snugly in front of it? One of our favourite fireplace pastimes is to crack open a bottle of wine and pick up a book. But which wine? And which book?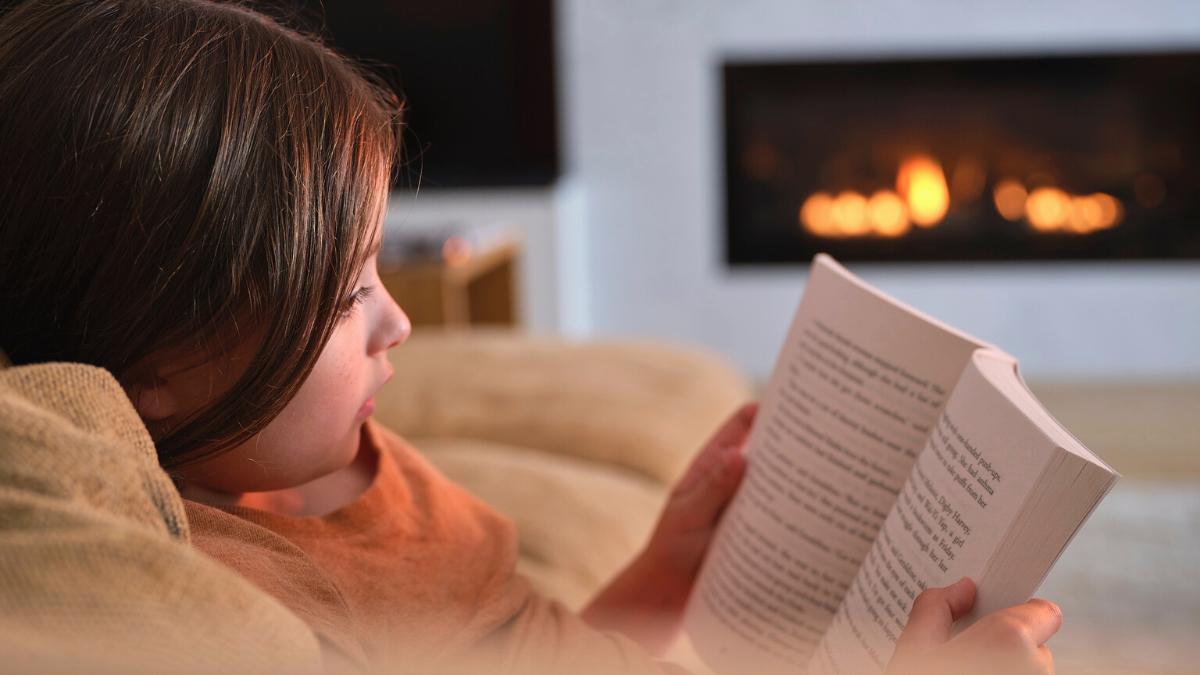 To help you with this dilemma, we've curated a list with a few great drink and book pairings:
Pairing 1: The always on-trend
Book: Normal People by Sally Rooney
Drink: A full-bodied Chardonnay
Stay current and cool with one of the most talked-about books of the past decade. Normal People explores the subtleties of class, the electricity of first love, and the complex entanglements of family and friendship through the lens of its two central characters.
We've chosen to pair this book with an appealing, full-bodied Chardonnay, mostly because this grape is equally hot and on-trend, as wine lovers rediscover the decadent, layered and ripe notes that put our Aussie Chardonnays on the global map way back when.
---
Pairing 2: Solve an Aussie mystery
Book: The Dry by Jane Harper
Drink: Chai
You'll be swept away by this atmospheric, page-turning mystery. Set in a small Australian country town, packed with secrets and plot twists, and captivatingly written, it's no surprise this book won numerous international awards and went on to sell over a million copies worldwide.
You don't want alcohol clouding your judgment while you're on the hunt for the killer, so opt for a mentally stimulating drink that's as spicy as the plot: a chai, or a chai latte.
---
Pairing 3: Escape to fantasyland
Book: Stardust by Neil Gaiman
Drink: Mulled wine
Written in Neil Gaiman's signature, sparse prose, Stardust is a sweet fantasy romance that follows young Tristran Thorn, who will do anything to win the heart of beautiful Victoria. But when he sets off to fetch her the star that falls from the sky, he must enter the lands of Faerie, where nothing is as it seems.
Try the illustrated editions for even more wonderment. There's also a Stardust movie if you prefer or are curious to compare once you've finished reading. This book pairs perfectly with mulled wine, as both offer an abundance of warmth and sophistication.
---
Pairing 4: The classic
Book: The Great Gatsby by F. Scott Fitzgerald
Drink: Champagne
Also known as 'the stick your middle up to winter' pairing, this combination oozes class and style, and will have you forgetting all about the weather outside. The novel is timeless, a contender for the title of 'Great American Novel'. And best of all, it's not that long so a quick reader may be able to get through it in one sitting.
Dressing up in roaring 20s outfits, such as a flapper dress with pearl necklace and long gloves for the ladies or a spick tuxedo for the gents is entirely optional, but recommended. It'll make the champagne taste that much sweeter.
---
Pairing 5: Have a good cry
Book: A Little Life by Hanya Yanagihara
Drink: Something strong
Crying can be cathartic. And we have just the book to get those tear ducts a-flowing. A Little Life serves up trauma in spades. It spares no mercy in its constant detailing of abuse and sorrow. But it's this intrinsic sadness that makes it such a compelling read. Love it or hate it, this novel will stick long in the memory.
Pair it with anything strong in your liquor cabinet, such as a quality vodka, gin, whisky or rum. And keep those tissues close.
---
Pairing 6: Childhood memories
Book: Your favourite childhood book
Drink: Hot chocolate
This one's pretty self-explanatory: grab your most treasured childhood book – Winnie the Pooh, Anne of Green Gables, Tintin, Dear Zoo, Charlotte's Web, Alice in Wonderland, Where the Wild Things Are etc. – and make yourself a nice steaming hot chocolate.
It's fun to reminisce with one of your old favourites, but even better, these memories of yesteryear can also provide you with a source of affirmation and hope in today.
---
Pairing 7: Brain food
Book: Sapiens by Yuval Noah Harari
Drink: Shiraz
Not a fiction fan? Try this bold, wide-ranging, provocative book instead. Sapiens doesn't do things by halves. It really does span the whole of human history, challenging everything we thought we knew about being human: our thoughts, our actions, our power ... and our future.
Beautifully written and sure to make you think, it's great alongside a cerebral, thoughtful glass of shiraz.
---
Pairing 8: Your home and gas appliances
Okay, so we're cheating a bit with this one, but we do want to quickly circle back to our earlier point about the wonders of gas fireplaces.
The fact is, gas fireplaces and other gas appliances have the potential to save you money on running costs, reduce your household carbon emissions, and deliver a more reliable, effective performance than their electric counterparts.
So if you're considering installing or upgrading a fireplace, you should really think about the many benefits of gas. Learn more about natural gas over on our AGN blog, or find out what the future holds for gas here.