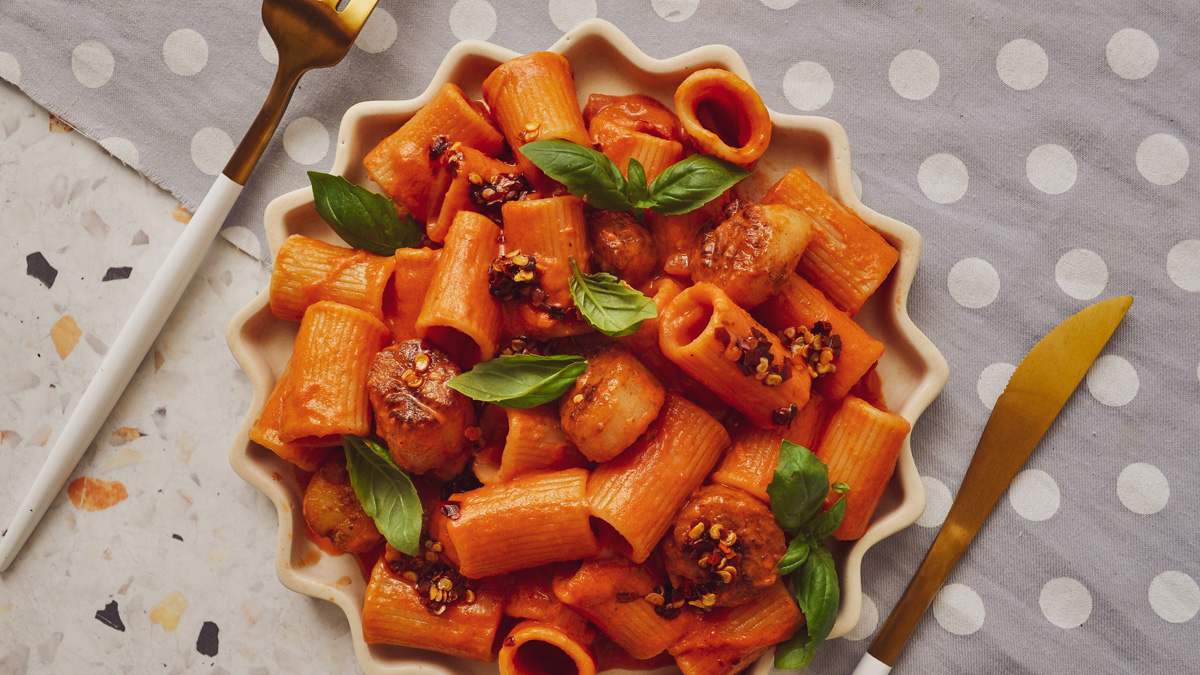 Fiery Vodka Rigatoni with Seared Scallops
If you like some excitement in your kitchen then this is a fun dish to prepare when having guests over for dinner – warning, this is not for the faint-hearted! The crispy scallops add a decadent touch to a classic Vodka pasta, and the bonus flambé is a bit of extra drama that always impresses.
Therese Spoon is in the kitchen again, and this time she's dishing up Vodka Rigatoni.
When it comes to cooking Therese said, "there's no alternative to cooking with gas. The ability to control the flame and heat in an instant is so vital for certain dishes, and when cooking with gas, there's no heat-up time or second-guessing; you can literally see and control the flame as needed!"
While creating a flambe dish is perfectly safe and easy, we recommend that your kitchen is well-ventilated, your stove-top clear and to tie back long hair before you begin!
Ingredients: (Serves 4)
2 eschalots- finely chopped
1 garlic clove- minced
2 tbsp olive oil
1 handful of basil leaves
700ml tomato passata
400g rigatoni
100g butter- cubed
12 scallops
1 brown onion- finely chopped
1 red chilli- finely chopped, seeds discarded
150ml Vodka
350ml Thickened Cream
Method:
In a medium sized saucepan, add 2 chopped eschalots, the minced garlic and olive oil. Fry until softened. Add the passata, and a few tablespoons of water to wash out the bottle, as well as a few sprigs of basil. Gently simmer for 30-40 minutes, then scoop out and discard the basil.
Bring a large pot of water to boil. Salt generously, and cook the rigatoni until al dente, then drain (reserve a few spoonfuls of cooking water)
In the meantime, melt 100g butter in a large frying pan on medium-high heat. Pat the scallops dry, and season with salt on one side. Add the scallops to the pan- salted side down, and fry for 2 minutes. Salt the other side, then flip and fry for a further 2 minutes- or until a golden crust forms. Set the scallops aside on a clean plate.
In the same pan, add 1 finely chopped onion and 1 chopped red chilli. Sweat on medium heat for 5 minutes.
Add 150ml vodka, then turn the flame up. Very carefully tip the pan (keeping hair, all loose clothing and other items well clear) away from you to catch the flame, and let the vodka burn for a moment.
Spoon in the pomodoro sauce and stir until the flame is extinguished. Add 350ml of thickened cream, and continue to stir until smooth.
Toss in the cooked pasta with a few tablespoons of pasta cooking water, and stir until the sauce clings to the pasta. Add the seared scallops in and gently combine.
Spoon the pasta onto serving plates, and garnish with a few small basil leaves.