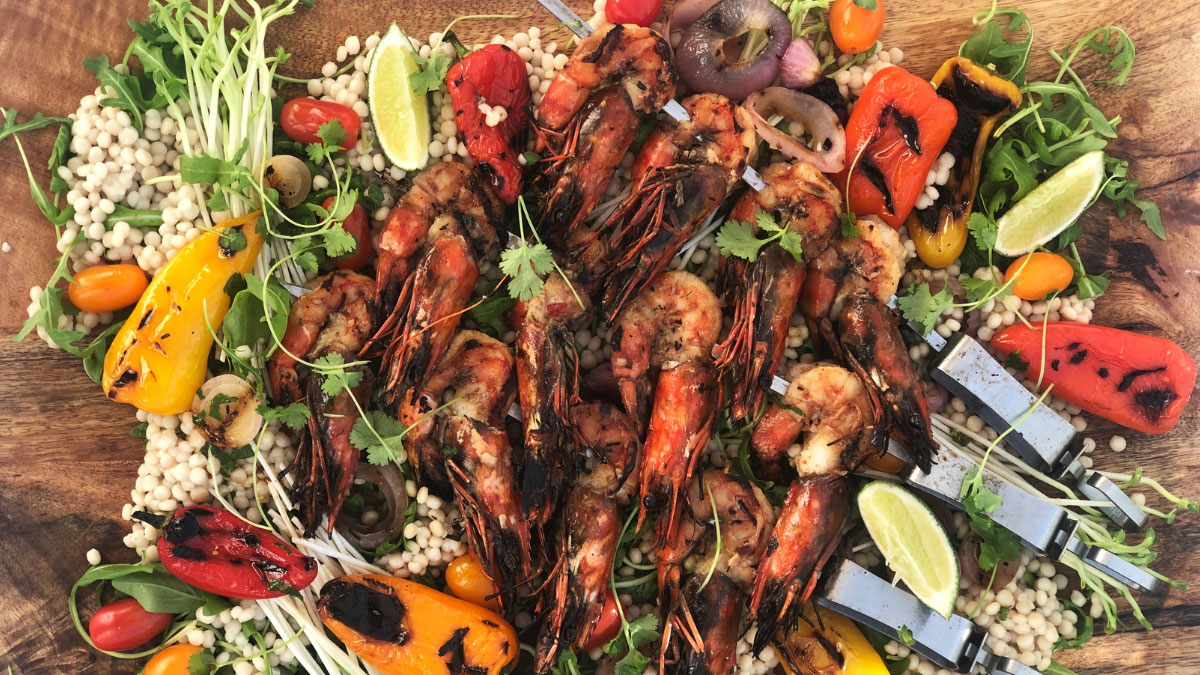 We recently shared a recipe by Desi's sister, Irene Sharp – this dynamic culinary duo make up the @grill.sisters and Desi also shares her recipes on @healthycook4champions. Desi has created a sweet and spicy BBQ prawn salad just for us, it is both healthy and easy to throw together.
Don't be daunted by a long list of ingredients – when you're cooking with your gas BBQ its both fast and hot, so the prep time is worth a little extra effort. Desi's top tip for hassle free barbequing? "Connect your BBQ to mains gas and never have to worry about running out of gas at the 11th hour again!"
Ingredients: (Serves 4)
16 large raw tiger prawns
¼ cup olive oil
1 tsp brown sugar
¼ tsp cracked black and pink pepper
½ tsp Himalayan salt
1 tsp fresh ginger
1 small chilli diced and seeds removed
1 tbsp coriander, chopped
2 garlic cloves, minced
½ fresh lime zest
¼ cup light soy sauce
½ cup oyster sauce
---
Pearl Couscous Salad
1 red onion, thickly sliced
8 small sweet peppers
2 tbsp olive oil
2 cups baby rocket leaves
2 cups pearl couscous, cooked and cooled
2 small bunches snow pea sprouts
½ cup red cherry tomatoes
½ cup orange cherry tomatoes
1 fresh lime, quartered
---
Dressing
¼ cup extra virgin olive oil
3 tbsp balsamic vinegar
½ tsp Himalayan salt
1 tbsp fresh parsley, chopped
½ tsp mustard seeds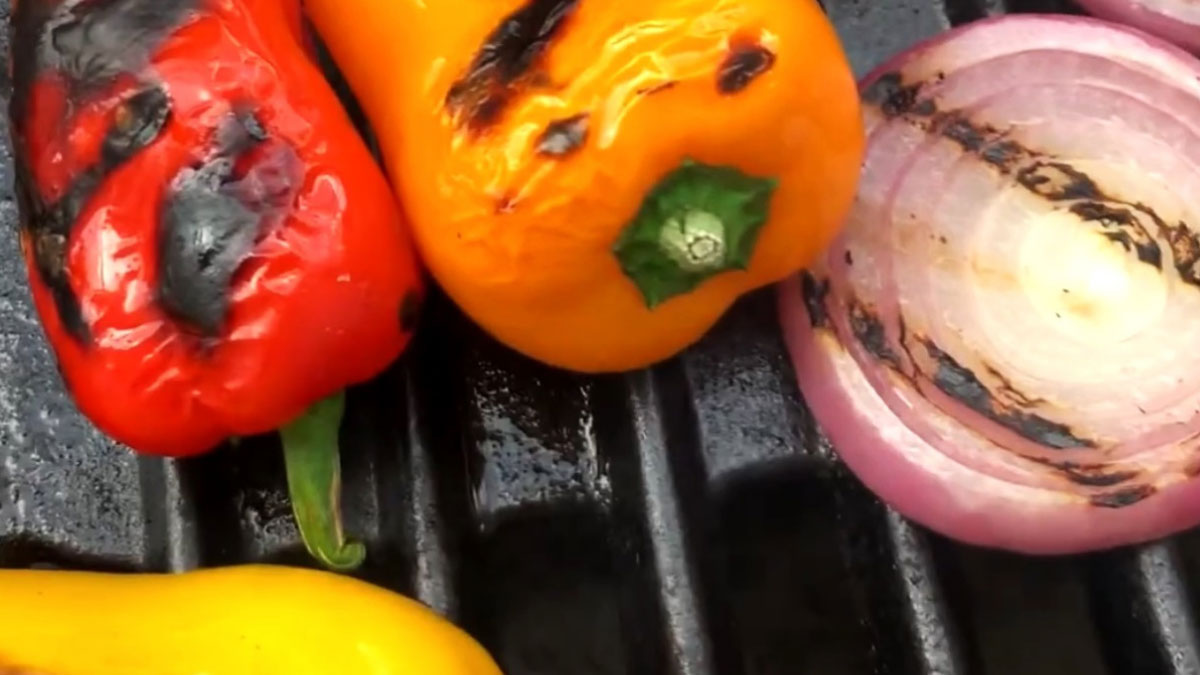 Method:
Prepare the marinade by adding into a large bowl, the olive oil, brown sugar, pepper, salt, ginger, chilli, coriander, garlic, lime zest, soy sauce, oyster sauce and give it a good stir.
Butterfly the prawns by removing the shells and keeping the head and tail intact. Make a small incision in the middle of the prawn from the bottom of the head to the tail and remove the digestive track. Add all the marinade to the prawns then thread the prawns on to the skewers. Refrigerate for 20 minutes.
Prepare the pearl couscous as per the instructions on the packaging.
Heat BBQ to medium high heat for 10 minutes.
In a plate, add the sweet peppers and onion and coat with olive oil. Add the sweet peppers and onion onto the grill. Cook for 3 minutes per side until they have a slight char.
Add the prawns on to the grill. The prawns will need around 6 minutes to cook. They will be ready once they turn opaque. Once they are ready, take them off the grill and cover with foil to keep warm.
To make the dressing, combine in a small bowl, the olive oil, balsamic vinegar, salt, parsley, mustard seeds and give it a good stir.
To prepare the pearl couscous salad, use a large chopping board and scatter the rocket, couscous, snow pea sprouts, cherry tomatoes, grilled onion, grilled peppers and drizzle the dressing all over.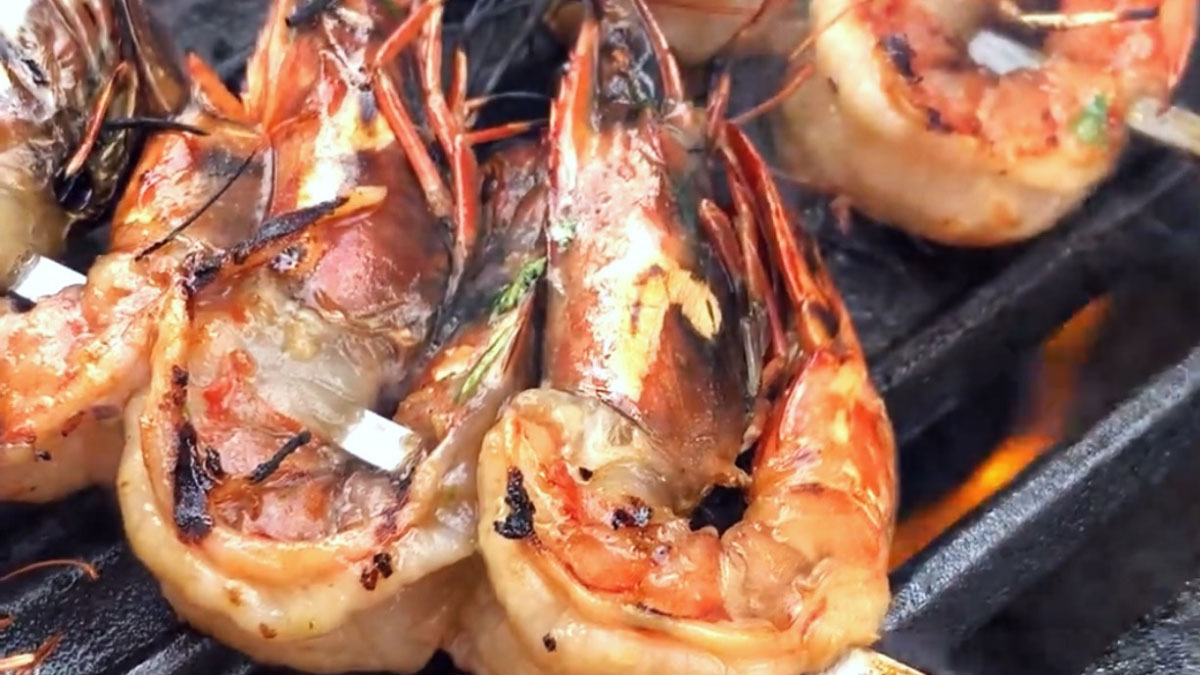 Tip.
If using wooden skewers, always soak them in water for 30 minutes before treading the prawns on.
Looking for more cooking inspiration? Check out the on our blog.
And if you're don't already have your BBQ connect to mains natural gas, consider getting connected.