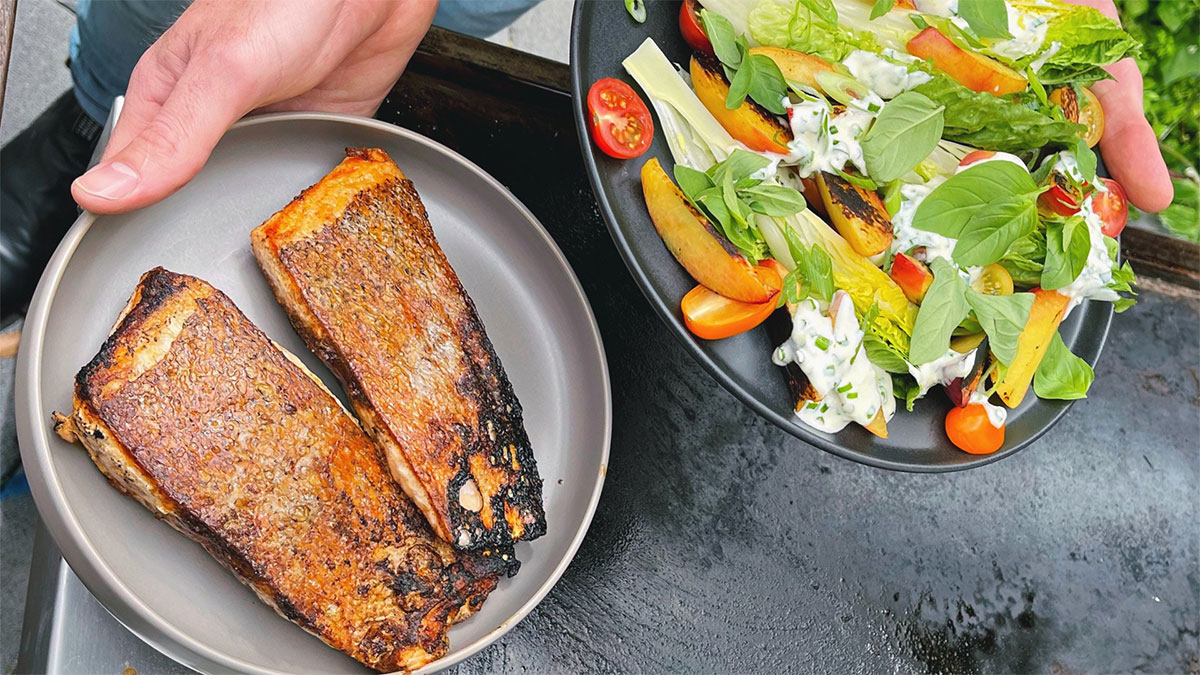 If you're entertaining this summer and looking for something fresh and colourful, this very tasty Cajun Salmon is sure to wow your guests! Add in the charred sweetness of grilled peach salad and this will be a meal long remembered.
Callum Hann (previous Master Chef contestant and owner of Sprout Catering in Adelaide) was invited to road test our 100% renewable green hydrogen powered BBQ in his own backyard. Verdict: it's the same as cooking with a regular natural gas BBQ – but carbon-neutral!
Watch the video below of Callum preparing this recipe – and get a sneak peak of what cooking in the not-too-distant-future will be like.
Ingredients: (Serves 4)
½ cup Greek yoghurt
¼ bunch of chives, finely chopped
2 garlic cloves, finely grated
juice of 1 lemon
1 tablespoon olive oil
1 tablespoon smoked paprika
1 tablespoon ground coriander
4 x 150g salmon fillets
2 peaches, cut into thick wedges
2 baby cos, leaves separated
1 punnet cherry tomatoes, quartered
2 spring onion, thinly sliced
½ bunch of basil, leaves picked
Method:
1. Combine yoghurt, chives, garlic, and half the lemon juice in a small bowl. Set aside.
2. Heat oil on a flat top bbq over medium-high heat. Rub paprika and coriander over all sides of the salmon except the skin. Cook salmon, skin down first, for 3-4 minutes each side or until golden and done to your liking. Remove salmon from bbq and set aside. Add peach and cook for 1-2 minutes each side, or until lightly charred.
3. Combine peaches, cos lettuce, spring onion, tomatoes, basil and remaining half the lemon juice in a large bowl. Toss to coat.
4. Divide chive yoghurt between serving plates. Top with peach salad and salmon.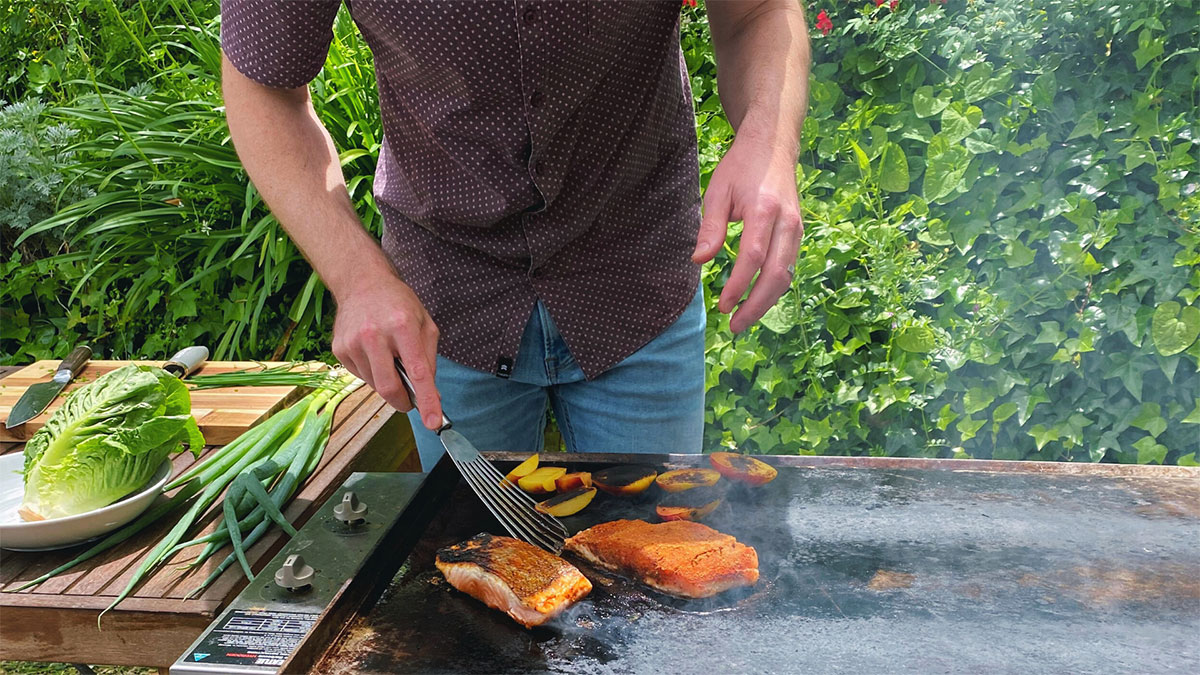 At AGN we are committed to reducing carbon emissions in the gas network and to achieve this we are transitioning to 100% renewable gas; this means you can keep enjoying gas for cooking, heating and hot water as you do today. Want to learn more about renewable gas? Visit Renewable gas. Change for Good.
Looking for more BBQ inspiration? Check out Callum's pork za'atar, grilled Lamb and haloumi & charred corn recipes.