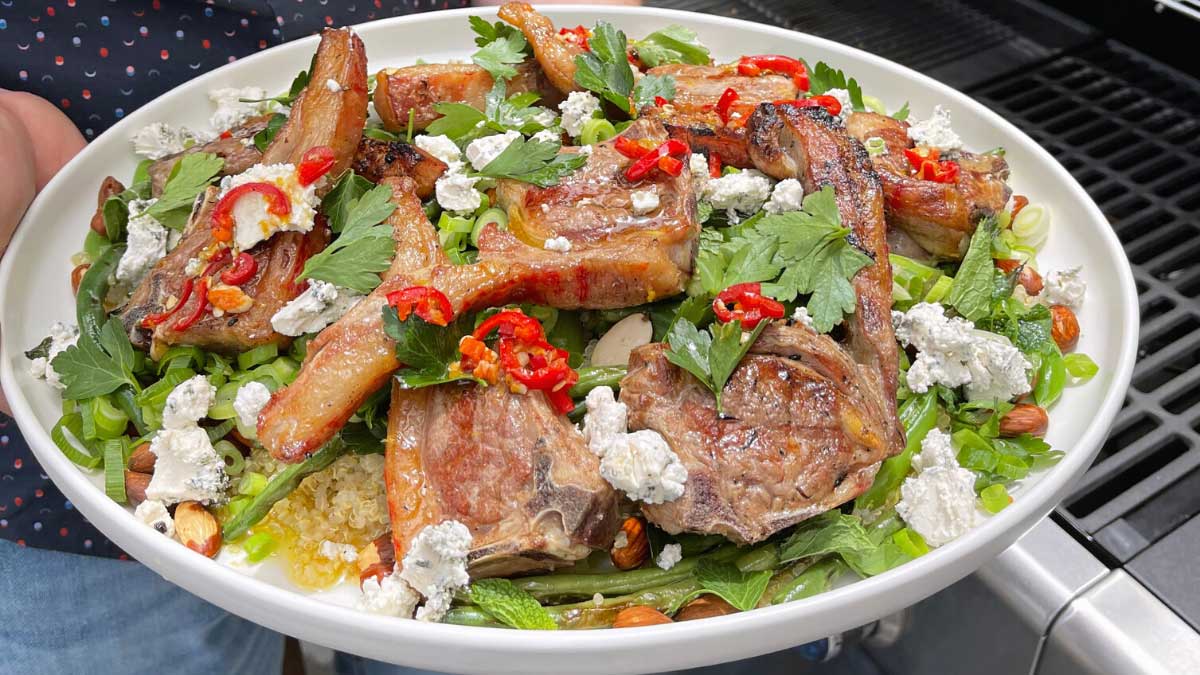 Lamb loin chops are an Aussie BBQ classic! Callum Hann takes the humble chop and flips it to create a crispier, perfectly cooked chop every time.
Watch the video below of Callum preparing this recipe – and get a sneak peak of what cooking on a 100% renewable gas BBQ looks like.
Callum Hann cooks with 100% renewable gas: Grilled lamb with spring greens, feta & quinoa salad
Ingredients: (Serves 4)
1 cup quinoa
200g sugar snap peas, trimmed
8 lamb loin chops
80g marinated feta, crumbled
1 lemon, zested then juiced
1 red chilli, seeds removed and finely chopped
400g green beans, trimmed
2 tablespoons olive oil
3 spring onions, thinly sliced
½ bunch of mint, leaves picked
½ bunch of parsley, leaves picked
¼ cup roasted almonds, roughly chopped
Method:
1. Bring a medium saucepan of water to the boil. Boil quinoa for 8-10 minutes or until almost tender. Add sugar snap peas for the final minute of cooking. Drain and transfer to a large bowl to cool slightly.
2. Meanwhile, score the fat on the lamb chops. Place the lamb, fat side down, onto a preheated bbq. Cook over medium-high heat for 3-5 minutes or until fat renders out. Turn lamb and cook sides for 1-2 minutes each or until cooked to your liking. While the lamb is cooking, combine two tablespoons of oil from the marinated feta with lemon zest and chilli. Transfer lamb to the bowl and allow to rest in the marinade.
3. Toss green beans and olive oil together then place on the bbq. Cook for 2-3 minutes or until lightly charred and tender. Add to the quinoa, along with spring onion, mint, parsley, almonds, marinated feta and lemon juice. Toss to coat.
4. Divide salad between four serving plates, and top with marinated lamb chops. Spoon over any leftover marinade then serve.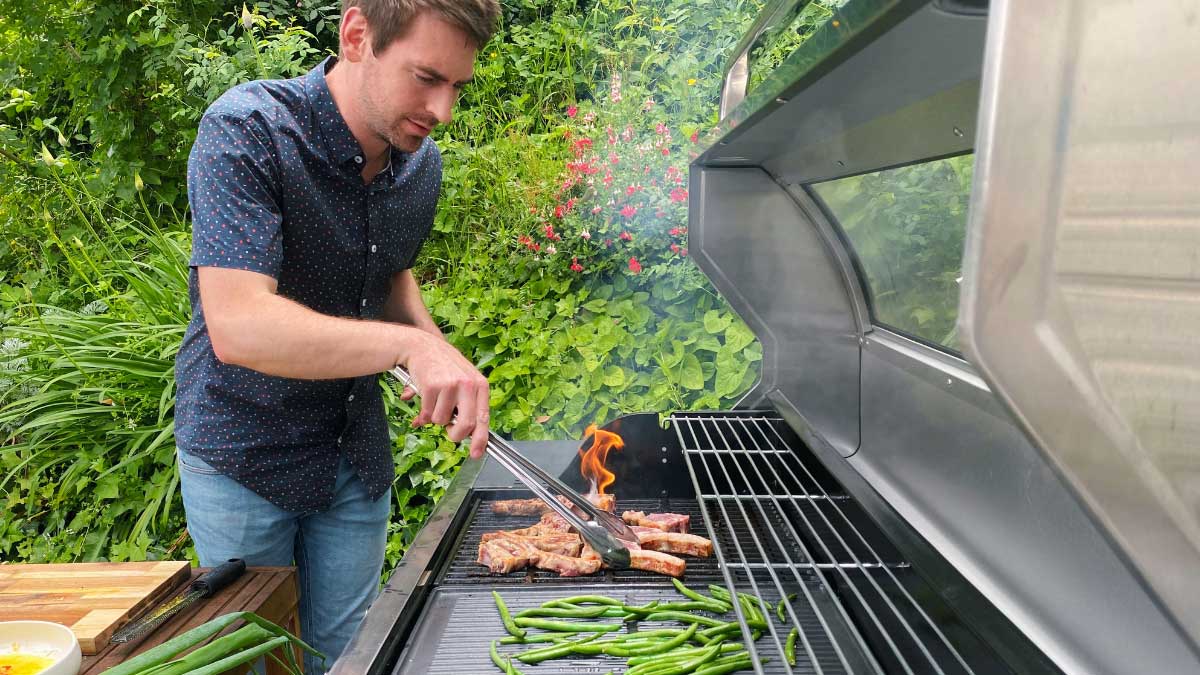 At AGN we are committed to reducing carbon emissions in the gas network and to achieve this we are transitioning to 100% renewable gas; this means you can keep enjoying gas for cooking, heating and hot water as you do today. Want to learn more about renewable gas? Visit Renewable gas. Change for Good.
Looking for more BBQ inspiration? Check out Callum's pork za'atar, cajun salmon and haloumi & charred corn recipes.